How to make #30stemchallenge posies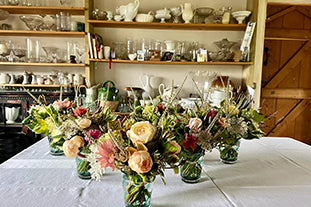 Join Georgie as she creates six matching (almost!) #30stemchallenge posies in gorgeous striped pool glasses by @casabyJJ.
It's late July, and sometimes our gardens can look a bit in-between-times at this time of the summer, the spring and early summer flowers going over, the late summer slowly getting going. So making small posies with shorter stems is a good way to use up the material you do have in the garden. Have a go making one of these. Be inspired by the maths Georgie uses when working out how to make her creations. See how little you need to make real wow factor. And if you're looking for interesting vessels then you don't always have to use something officially called a vase - glassware, mugs, jugs, bowls - anything goes in Georgie's book.