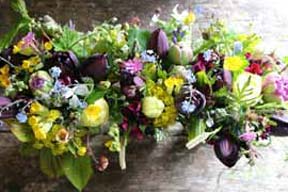 Well it's been a glorious spring - and I hope it's going to be a glorious summer.  Can it already be May?  It's planting out a go-go here, despite there being no rain to speak of.  There's a tunnel full of new dahlias waiting for the 1st June and planting out day.  And in the cold frames more and more plants fattening up nicely for our charity plant sale on 6th May.  And in the studio we have lots of goodies piling up for the plant sale raffle. 
 
Plant sale? You say… I know, don't we all love a plant sale?  Well, for more info on what we're raising money for have a read of my blog post here.  And if you don't really mind what we're raising money for but just fancy coming along, then see you at Charlton Musgrove Village Hall, BA9 8HF between 9.30 and 12.30 on 6th May.  If this lovely warm spring has given you lots of spare seedlings (who amongst us doesn't sow too much seed for the plants we actually need?) do bring them along and donate them to the cause, have lots of tea and cake and buy our plants too to replace the ones you forgot to sow, or which failed for some reason, or which you don't even know you need.
 
SPECIAL thanks must go to Snapdragon UK, Nicola Cretney - Independent Consultant for Neal's Yard Remedies Organic, Plant Geek, Netherton Foundry, Lou's Poo (alpacca poo!) for raffle prizes so far.  If you have something you'd like to contribute to the raffle do bring it along - I think I might do a loverly bunch of flaars myself to add to the raffle display. 
 
It's good to have a plant sale to focus on.  It's very easy to be deeply involved with running a small business like ours and sort of find the year running away with me so that I'll wake up in November and realise the summer's long gone and I didn't even see it.  Village commitments, like a plant sale raising money for the church, remind me that there are other perspectives than just running the show here at Common Farm Flowers, and that my neighbours are good and friendly people, and that when we all pull together we can achieve great things (mend the hole in the church roof!)
 
So hopefully I'll see some of you on 6th May at the village hall - and hopefully some of you will bring plants to donate - and we'll raise a bit of money for that holey church roof.
 
What else do we have in May?  Well lots of cheery workshops.  The day courses here at Common Farm are more fun than a picnic, inspiring, enabling, delicious food.  Treat yourself to a day out here and turn your trip to us into a mini break, staying in Bruton perhaps, or going to visit the Piet Oudolf garden at Hauser and Wirth, eating out at one of our fab local pubs - we even have our own village pub now, The Smithy, restored and reopened and very cheerful. 

And, finally this month, a plea for help...we don't often do this and hope it doesn't sound impolite, but if any of our lovely customers could spare a moment or two to leave us a review on Google, then we'd be enormously grateful! You can write your reviews here - thank you very much!