Taking dahlia cuttings and another sowing of seeds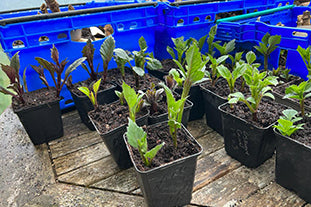 Join Georgie on this gorgeous Mayday bank holiday as she takes dahlia cuttings and sows seed and listens to the birdsong using the @cornell_lab app to identify the birds as she hears them.
As we head towards summer, Georgie offers a number of online workshops and demos on a wide range of growing and arranging flowers topics. These are available to you whereever you are in the world. They are held on Zoom and if people can't attend live we always send out the recording afterwards.
So, if you want more detail and depth on any of the topics in our videos it is worth checking our workshops to see if we run one that can give you all the information you might need! All our workshops are listed on our website here.