Learn to make a perennial wildflower meadow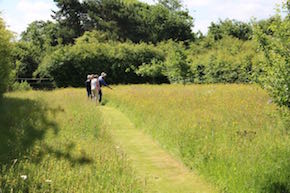 Learn to make a perennial wildflower meadow here at Common Farm between Bruton and Wincanton in Somerset.
Today we had the first of two day courses on our garden school calendar, with Fabrizio sharing all he's learned over the years about creating and maintaining a perennial wildflower meadow.
The meadow's looking absolutely fantastic, and with tours of different areas in the garden showing how meadows develop slowly over time, how different plants establish, and behave in different environments, everyone had a fascinating day.  
We ended up sowing fresh as a daisy cowslip, ragged robbin, and campion seed in trays for people to take home.  It's amazing that the gardening year seems to have only just got going, and yet we already have seed to harvest and sow, to make plug plants to set out in the sward in the autumn, to give us colour early next year.
Quite gives me faith in the future....
We have places on next Tuesday's course.  Do ring us or book on line.