Fresh cut English country flowers for flower delivery bouquets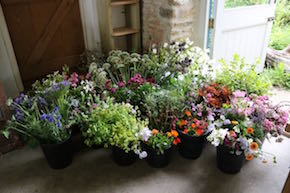 When I say our flowers are freshly cut English country flowers, as you can see, they really are.  This was yesterday morning's cut, and we cut exactly what we needed for our orders.  We don't use any flower preserving chemicals or flower food, so we keep out flowers fresh in the field, and while they wait for cutting they feed the bees and butterflies and so earn twice their living.  
This mix is about seven hundred stems, and just to give you an idea what seven hundred stems makes for us, this lot was destined to create three kitchen table bouquets, our regular order to be delivered to Lawrence House Styling in Wincanton, eighteen jam jar posies, and to be put into two mixed buckets of about eighty stems each, one for delivery, and one to be collected this morning.  
 We are careful to grow a really wide mix of flowers, so you'll always get an unusual mix in our flower delivery bouquets.  In this mix we have: alliums (two kinds,) alchemilla, feverfew, Canterbury bells, dill, ammi majus, calendula, penstemons, devil's bit and field scabious, campion, physocarpus, philadelphus, sweet William, cornflowers, gypsophila Covent Garden, bupleurum, sweet peas (lots different kinds,) clary sage, lavatera, larkspur and candytuft... I'm sure there's more but that's what I can spy with my not very good eyes.  
So when you order your flowers we put your order into a file for the day they'll be sent.  Then on that day the orders are taken out, the stem count made, a cutting list made, and out go Sharon and I, cutting list in hand, to cut exactly what we need for those flower deliveries.  The flowers then have several hours to recover from being cut, having a nice long drink i the cool of our barn.  We then create our bouquets, aquapack them (put them in special bags of water for their travels,) box them up in our specially designed boxes, and the courier collects at about 4.30pm.  Your flowers, freshly cut from our garden, delivered next day.  Simple.