It's British Flowers week!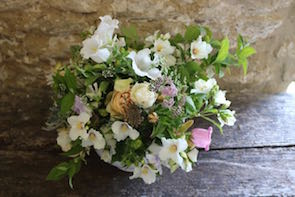 Woohoo! It's British Flowers week!  The annual celebration of our lovely home grown not flown flower growing industry.  All over the UK flower farms small and large, florists, wholesalers, designers, we're all celebrating our wonderful home-grown flowers and the gorgeous English country flowers style we have.  
Today we're feeling super British flowersish, sending flowers to London for a cricket match, and to Portishead for a Scottish lady - we created a bouquet with cardoons for Scottish thistles and red to match the lady's tartan.  
It may feel south of Francishly hot here, but our British flowers are at their most lovely (I think this every week!) with the scented philadelphus, scented sweet peas, scented roses setting off in their flower boxes, taking freshly cut to order delicious scented flowers all over the country - for flower delivery surprises UK-wide.
Why buy British flowers?
Well, they're fresher by days than anything flown in from afar.
An environment in which flowers grow means an environment in which bees and butterflies flourish.
We have stringent rules in the UK governing the payment of staff, treatment of staff, quantity and variety of chemicals used in horticulture - your flower buying habits support that system.
All over the UK our flower farming community is growing - from a moment a few years ago when the death knell was probably already ringing over the British flower growing industries, there's been an amazing rebirth in high quality, beautiful, often hard-to-find-elsewhere, British grown flowers.  Your support is invaluable in keeping small flower farms like ours going.  I'm sure that without the internet, and social media, Common Farm Flowers would never have got off the ground.  It's the fact that we growers can communicate directly with you, our customers, through social media platforms, that means we can tell you our stories, what we're up to, what we're growing, how your support creates new landscapes humming with bees on flowers, and that makes the rebirth of the British flowers industry possible.
So thank you kind customers, and we hope you'll keep supporting us, and all the small grower florists, making a living so that they can feed their families and their environment through growing gorgeous swathes of beautiful cut flowers.