How to choose your wedding florist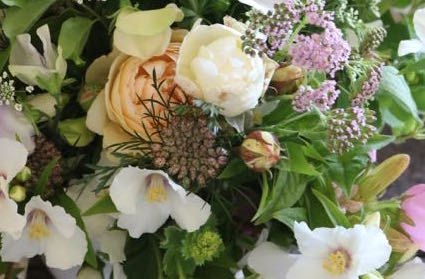 How to choose your wedding florist.
I'm often telephoned by people who are just beginning the research for suppliers for their wedding.  And I often end up talking to them for over an hour, advising on much more than the flowers.  There's so much to think about: where do you start?
I think the best way to find out who should help with your wedding flowers is to give as much information as you have, from budget to pinterest board inspiration, to your potential florist, and then sit back and let them come back to you with great ideas.  Don't have your ideas set in stone: allow a good florist to take your inspiration and come back with great ways to make the most of your budget so that your wedding photos are full of flowers but your budget isn't broken.
Allow your wedding florist to show you how you can frame those important moments during the day with flowers, so that the photographs on your mantlepiece in fifty years time remind you of the gorgeous scent of your wedding flowers.
Your wedding florist is likely to be very can-do, full of ideas, and the wise couple will go for someone who instinctively they trust.  It's worth choosing someone who's very clear about budget, is happy to include VAT in their price list, is clear whether prices include delivery and staffing.  You don't want your wedding flowers budget to spiral out of control because the original estimate didn't include these things.  You want your florist to be inspiring and trustworthy, experienced, and very calm.  You want them to be occasionally too busy to call you back, but you want them always to call you back, and you want them to be able to break their flower estimates down in a way that you can understand, so that you know exactly what you're paying for.
And you want to love love love their work.  So speak to several florists before deciding who should work with you.  Follow their pinterest and instagram accounts to see what they've done which might be inspiring for you.  And allow a good florist's experience as well as their creativity help you choose how to have a day festooned with flowers which you can remember always.