Beautiful British Flowers Bride's Bouquet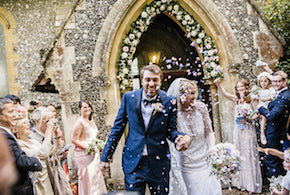 From our little flower farm and floristry studio between Bruton and Wincanton in Somerset, we grow and supply English country flowers for about sixty weddings a year, and a great many of them are sent by courier.  This picture is from one such.  We sent ten buckets of flowers to be made into everything except the bride's bouquet and the buttonholes, and then we made the buttonholes and the bridal flowers and sent them over to Oxfordshire too as flower delivery bouquets.
I never met the bride as she lived on the West Coast of the USA, so we corresponded by email and spoke a few times on the phone.  We talked about the feel and look of the flowers she was looking for, and she trusted me to be able to put together a mix of flowers which would work well with her scheme, and to make her bouquet for her.  She loved the fact we grow all the flowers, or use locally grown flowers in our bouquets, never using imported flowers, always grown not flown, and that our look is therefore strictly seasonal, and so really does look as though they've just been picked from an English country garden (because they have!)
It was the end of August, and her pastel shades glowed in warmth of the late summer sun.  I loved this bouquet so much I could hardly bear to send it off, carefully wrapped in its special box.  But I did, and it's lovely to see such cheerful pictures of a truly wonderful day.
Photo credit: John Day Photography.
See Sarah and Tim's wedding on The Copse Weddings for more.