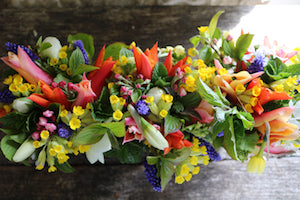 Congratulations to Prince Harry and Meghan Markle!  I love a Royal Wedding, especially one announced in late November when we still have the winter to get through.  Here are the top considerations I'll bet they'll be thinking about when it comes to deciding on their wedding flowers.
The Look.
With so many good family gardens to pick from, I'll bet the look is to be classic English country garden flowers.  Prince William and Katherine had a gorgeous pure white scheme at their spring wedding, and I loved the way they lined the aisle of Westminster Abbey with trees.  I'll bet Meghan and Harry have an equally bringing-the-outside-in look, though I'll bet good money that the colours won't be the same.
Colour scheme.
So far our wedding flowers bookings for the 2018 season have been the absolute oposite of this year: I'm planting a lot more colour for 2018, especially a wonderful mix of hot reds, pinks and oranges.  I think red is going to be very popular, but it'll be mixed into a vibrant combinaion so that the colours really sing, of fuschia, tomato, cherry, and really hot oranges.  Wedding flower trends for 2018 are all about colour and I'll bet Harry and Meghan go for a more colourful wedding too.  I think a really Tudor combination would suit both their colourings, and St George's chapel, Windsor, as jewel colours are brilliant with gilding, medieval paintwork, and that gorgeous golden stone with which the chapel was built.
Spring wedding flowers.
It's so important to consider what flowers will be in season for a wedding.  Harry and Meghan are planning a spring wedding, so they'll be able to have the most gorgeous array of English country flowers at their disposal.  Tulips, sweet William, sweet rocket, foxgloves, honesty, Solomon's seal, ranunculus, blossom, iris, lilac, and a festival of emerging foliage will be there for them. 
Oh I hope they have a lovely time planning and I can't wait to see what they choose.