Planning a really big wedding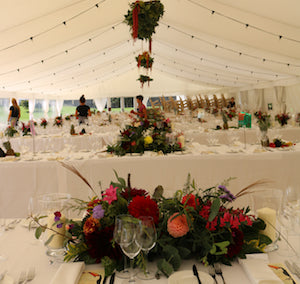 Top tips if you're planning a really big wedding:
Really big weddings cost a fortune.  If you're determined to have 250+ people to your do it's going to cost a great deal of money.  This is fine if you acknowledge the fact early on and give yourself a good, fat budget.  If you want to throw a huge party on a tight budget you'll end up in a foul temper having found you had to spend the money anyway.
It's very hard to create an 'intimate' feel at a huge wedding.  To seat 250+ people down for dinner you're going to need a marquee approaching the size of an aircraft hanger.  If you love pictures of a single table for eight nestled under trees in an orchard, dressed with masses of flowers, in a very Midsummer Night's Dream sort of way, then maybe go for a more intimate day where you can recreate such a look.  if you're looking for what I call the full Fragonard look in an aircraft hangar sized marquee, then you're going to need a budget to match a full Fragonard itself.
To make things go smoothly on the day make somebody in charge of running the day and keeping timings together.  Wedding planners really earn their stripes at this time.  Herding 250+ wedding guests from ceremony to drinks reception to dinner etc fast enough to ensure there is time for dancing makes herding cats seem easy peasy.  Wedding planners are brilliant at making sure that the crowd moves to where you want them to be, and the food appears quickly and still hot etc without your guests feeling chivvied.
In this corner of Somerset, and for north Dorset, west Wilts and east Devon weddings I'd recommend Sara Kirkby or Helen Vernon of Punch Events for wedding planning: years of experience handling teams of marquee people, caterers and florists mean that days they're involved with go like clockwork.  
We recently created flowers for a really big wedding near Henley and the job was run by Annabel and Jane of Queenie and Belles events.  They were fantastic, making sure that the caterers, marquee people and we, the florists, had all been introduced well in advance, creating a schedule for the week before the wedding, over the wedding weekend itself, and for the get out on the Monday, which worked for all of us.  They made sure we were fed on the day of the wedding, that all the myriad different parts of the incredible party the hosts gave came together like clockwork.  The caterers in this case, in case you are wondering, were delicious Kalm Catering, and the marquee people Lulu's Marquees.
The idea with a huge event like this is that it appears to happen effortlessly, and that is what a good wedding planner will do.  
So if you're going to give a really big wedding hire a seriously experienced wedding planner, don't stint on their services, and make sure the other suppliers, especially marquee, caterers and florists have a good chunk of experience behind them.  And let all of these people become a fantastic team for your event.  When it all goes well it's because the suppliers have been able to do their job to the best of their ability, and so have really enjoyed putting your event together for you, and a good wedding planner will facilitate that.
So find a good wedding planner with years of experience, and caterers and florists and marquee people who really know what they're doing as well as having a style you like.  And give the best party any of your guests have ever been to.  Saturday's do had a patisserie bar, a cocktail bar, a Brazilian steel band, a ferris wheel, fireworks AND they projected a dancing nightclub onto the face of the house.  I doubt anyone who was there will forget it in a hurry.  And for us, as suppliers, we won't forget either, a day which ran more smoothly than any other we've worked on, with good tempers, smiling staff, and people able to do a job they were really proud of thanks to some serious organisation from Queenie and Belles Events.