British grown flowers in November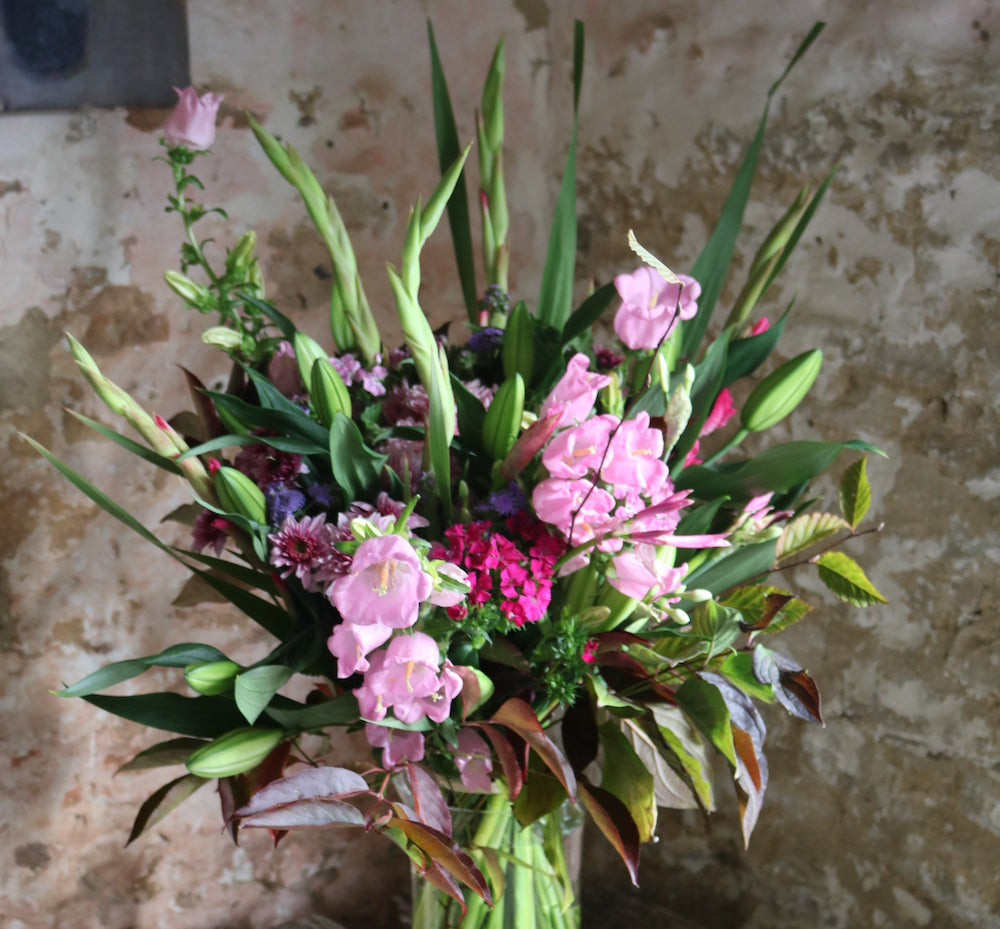 Sometimes people say to me that there are no British grown flowers in November.  Well, let me put those people right.  Our gardens here at Common Farm have a rest from production from November till about early April, but fortunately for us all we have wonderful growers all over the UK, and especially in Cornwall, who keep us supplied with fantastic, top quality, beautiful, seasonal British flowers all through the winter.
This bouquet, for example, is going out today and has in it: glorious glads, paperwhite narcissi, nerine lilies, beautiful big white lilies, gorgeous pink sweet William and chrysanthemums, Canterbury bells, and one of my absolute faves, blue ageratum, all framed with gorgeous red spindle foliage.  
We have a system when we're ordering in from our Cornish colleagues, that we have our weekly order delivered and we send our flowers out straight away so that they're fresh as a daisy when they arrive on kitchen tables and drawing room sideboards and hall coffers around the land.  So from now till April do order your flowers for us to send on a Thursday so that they arrive on a Friday and your friends and loved ones and lovers and you too even can enjoy them always over the weekend and into the following week.
We are all about freshness and seasonality here at Common Farm Flowers, and only ever use flowers which are grown not flown, and sent fresh fresh fresh for you to enjoy.
Coming soon will be ranunculus, more anemones, different narcissi, snapdragons and on... So keep on ordering from us throughout the winter and we'll delight in sending you the very best British grown flowers throughout the dark months of the year.
Meanwhile, we've got the tulips in and half the dahlias mulched so there'll be another blog post about them coming up shortly.