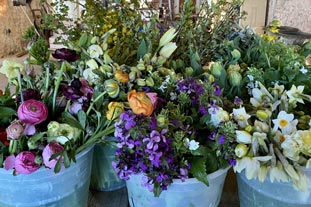 Dear Friends,
I type this as flurries of snow skip across the yard – I feel as though we live on the Russian steppe today.  And yet the studio is bursting with home-grown flowers for this week's orders safely gathered in and more out there for when I need them.  It's amazing how resilient the garden can be even when the April night's temperatures are well below zero.
What a year it's been, and like others I've taken time to reassess what we offer as a business, and decided to make a few changes.
As a florist and flower farmer I'm always telling my students to do what they love, and that if they find themselves doing what they think they ought to do, they'll come to resent their work.  I LOVE doing flowers for dinky weddings: elopements, small, intimate events, and most of all, helping out with weddings with a DIY element.  And so in the future this is where I'm going to concentrate my wedding creativity.  Please don't panic if you have us booked to do your lovely big wedding over the next eighteen months: of course we are going to love doing your events as they will be among the last big events we do.  But going forward, we are going to concentrate on small or DIY events, all local to Common Farm Flowers, here between Bruton and Wincanton in Somerset, so that clients can collect their bouquets, posies and buttonholes from us the day before their wedding or event, and create their own table centres and focal pieces with our DIY buckets.  This suits me because I love to see other people being creative with our flowers, and I'd rather show people how to create their own arrangements through our workshops.  I love to see the pride people take in succeeding in being creative themselves, so providing the mixed buckets, and showing people how to create their own event flowers through our workshops, both here and online is the way forward for us.  I know there's a huge appetite for people rediscovering their creativity, especially after a year in which everyone's had time to reassess a little, so whether you're near or far from us join us on a workshop either here at Common Farm, or online, and whether we supply the flowers for your event, or you go to your own local grower, my job is to give you the confidence to create with the flowers yourself.  
Coming up we have a whole range of summery flower design classes, both here at the farm (from mid May,) and online.  So do join us.  Whether you dream of doing all the flowers for a wedding or event, or just love to get creative with the flowers you grow in your garden, whether you're starting out and looking to learn to put together the perfect vase arrangement, or have a yen to create something wild like a meadow box, whether you've always wanted to know the mechanics for a huge urn design, or would like to learn to create a summer fresh flower wreath, we have all sorts of fun summery flowery projects to learn, so join me on one of our workshops and I'll see you then.
If you are planning a wedding in the south Somerset area I particularly recommend these venues near to us: North Cadbury Court, Sparkford Hall, The Longhouse at the Mill on the Brue, and Gants Mill - four lovely venues to suit different sized parties, all within ten minutes drive from us if you'd like us to supply flowers.
So keep warm friends, and I'll see you soon at a workshop, or when you pick up your wedding or event flowers from us.  And remember, we are still very much sending out bouquets, and we have our new click and collect system of flaars in the front porch for you too.  Though we do tend to sell out about a week ahead, so if you know you're going to need flowers from us, don't please leave your order to the last minute.
Love from Georgie x