December in the garden - much to do!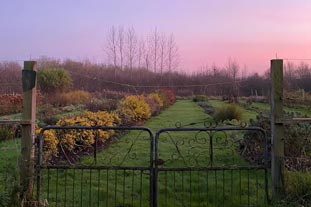 What are you getting up to in the garden in amongst all the Christmassy goings oI hear you cry! 

Well, the tulips are now all in (better late than never!) We've yet to prune the roses, but they can wait until after Christmas now. 

We're having fun planning to spend our two week Christmas break laying hedges we've planted over the past seventeen years.  They've grown so tall they are now shading out the cut flower patches and we need to let in some light.  We ordered all our hedging plants as thirty inch whips (we had very little budget!) from our friends and neighbours Ashridge Trees, and planted over half a mile of hedging splitting up our seven acre patch.  Hedging is a brilliant way to bring wildlife into your garden and much less expensive than a wall – it slows down the wind and protects a garden, as well as providing cover, nesting and bountiful food for wildlife.  I was uncertain when Fabrizio wanted to plant all these hedges  as I am short, and he tall, and I felt I might feel 'hedged in.'  But the hedges are the wow factor here at Common Farm Flowers, and without them we wouldn't be able to grow flowers which are perfect enough to cut and sell. 

I have a bare root planting session online in early January, in which I hope to give confidence to people who might be nervous about accepting orders of apparently dead sticks which they don't know how to plant in the ground so that they'll grow.  I'm a keen bare root shrub, tree and rose planter and I'll debunk any of the fears you may have about the process then.
And the plans for 2021 continue, with ordering seed for sowing from mid-february.  If you are looking for a fine cut flower seed merchant I say look no further than my friend Ben Ranyard from Higgledy Garden.  His list of cut flower seed is full of variety, his blog is fun, and he is a cheery fellow to deal with.
Other top tips for this time of year in the garden: if it's been very wet keep off your beds or you'll damage the soil structure, take time to mulch beds with good quality compost to improve soil structure, and don't overwater plants in your greenhouse or polytunnel or they'll rot.