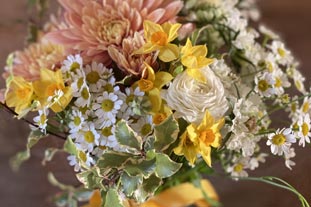 It's almost your last chance to order for Christmas.....
Well you kind people have ordered all the wreaths we have time to cut and make, and nearly all the flowers we'll have time to send.  But we do still have lovely things to order for Christmas so go ahead and have a rave up on our website.
Our online workshops and demonstrations have been a great hit this term and we have two left before Christmas.
On Friday 4th December I'll be demonstrating how to make one of our lovely dressed willow wreaths in a live online workshop at 4.30pm (GMT).  Book a place and I'll show you how we make the wreath and the garland so that you can then spend the weekend foraging goodies from your garden and creating your own.
On Wednesday 9th December (5pm GMT) I'll be demonstrating lots of ideas for decking your halls with foraged goodies for Christmas.  A Christmassy table centre, garlanding for hanging or surrounding a door, or dressing a mantlepiece, and details for your Christmas table.  We may not be having big family Christmasses, but we should still go the full Vogue Living in styling our Christmas day.  I had a friend called Bettina McNulty, a wonderful, elegant American who'd lived in London for fifty thrilling years when I met her in the south of France on holiday with her best friend, the much venerated Melle Susan Train of American Vogue.  Bettina taught me that dressing a table  with fresh, foraged ingredients is a treat and I credit her with much of the inspiration for my whole business here at Common Farm Flowers.  Come along to this workshop and I'll channel Bettina and Susan into inspiring you to plan a Christmas worth a photo shoot.
Workshops make great Christmas presents.  Next term we are re-running all this autumn's sell-out small business workshops.  Book one or all, or a mixture of these Wednesday evening sessions and refine all sorts of skills to help you make your small business dreams come true.  Social media, running a cashflow forecast, planning to start your lifestyle business, the flower farmer's year… all our Wednesday online workshops are live with a small group so that there's plenty of time for questions.  We send a recording of the session and notes to go with it, so you really get your money's worth.  The business workshops we ran this term have gone down a storm with so many thankyous, and people immediately booking the next after attending one, that I feel strongly there's a need for no-nonsense business planning designed to enable people to create and sustain a business which they have designed to suit their own lives.
And then there are the physical workshops we will be holding here from March onwards.  Until we are all inoculated we will hold these workshops outside under our lovely Timberintents sail in a very Covid preventative way.  We keep the groups small and take everyone to lunch up at our local farm shop where they have a delicious kitchen.  Days at Common Farm are inspiring and enabling and fun!  Our career change flower farming workshops have both sold out so I'm adding a new day, Saturday 20th March.  I should book this day quickly if the rate the other days have sold out is anything to go by.  If you've been growing for sale for a year or two and want to raise your game then the Flower Farming Intensive workshop will give you the strategy and focus to turn your flower farming project into something strategically managed, with strict, time saving systems, so that your future as a flower farmer is sustainable.  And then there are the fun days, posy tying, DIY wedding flowers, eco flowers skills and more.  I've scheduled up till June so there should be plenty to choose from, but as the groups are still super small (five students, plus me, equals six,) do book quickly.  Even if Covid rules change, I'm unlikely to open up these groups to more than one or two more students as I've really enjoyed teaching super small groups because people get so much out of the days.
And there may not be many bouquets available to order for delivery before Christmas (please see website for available delivery dates,) but a year of flowers starting in January, or four seasons of flowers starting in April, or a summer of flowers starting in April, make wonderful gifts at any time of the year.  So do go ahead and order – we can always arrange a card telling your recipient that their flowers are coming, and they'll have something lovely to look forward to. You can see our other gift ideas here!
Love from Georgie x