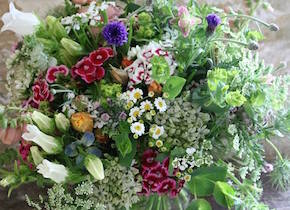 Posy tying workshop.
We hold lots of lovely one day courses here on our little Somerset flower farm between Bruton and Wincanton, and one of my favourites is coming up today.  We have a small group of people who come and spend the morning cutting flowers from our gardens here, and then we spend the afternoon arranging them.  
The day is called posy tying and garden floristry, and is designed to encourage people to be braver cutting flowers and foliage from their own gardens, and to show them some simple floristry techniques so that they too can create lovely hand-tied bouquets from their gardens, as well as jam jar posies, and if we have time, buttonholes.  
Often people are nervous of cutting the flowers and foliage they've grown, or they find that when they do the flowers wilt quickly and they're disappointed with the creations they make.  This day is designed to help people cut cleverly, condition their flowers properly, and be able to make wonderful bouquets with what they've grown themselves.
Today is full, but we have another day teaching just the same in early July, so do treat yourself, or yourself and a friend, and come and spend a splendid day at this little flower farm, seeing how we grow, what we grow, being allowed to cut your own bouquets from our beds here, and learning how to arrange them into bouquets and posies too.
We always have plenty of tea and coffee, top cakes and biscuits, and we serve a delicious, light, locally sourced lunch too.
Workshops here start at 10 and usually finish around 3pm.  Have a look at our workshop listings and book yourselves a treat.