In this week's flower delivery bouquets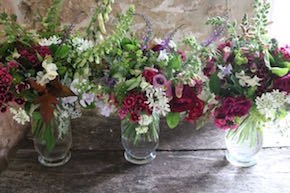 In this week's flower delivery bouquets we have a treasure trove of fresh cut English country flowers.  It's amazing to think that only a fortnight ago our flowers were all alliums and iris, and now here we go with the foxgloves (fantastic crop this year thanks to timely rain!) sweet william, orlaya, nigella, wild carrot, and the first of the roses.  We'll be cropping Canterbury bells before the end of this week too, and as the roses really get into their stride their scent and colour will compliment beautifully the sweet peas which we're cutting from the tunnel, along with cornflowers, clary sage, candytuft, phacelia, ammi, soft gypsophila Covent Garden, calendula and feverfew.  
Each bouquet is cut and conditioned and created to order, and delivered next day by our couriers throughout the UK.  
We successionally sow four crops of annuals here on our little Somerset flower farm: our first, sown on 15th Feb, is flowering now in the tunnel, the second, sown at the end of March, is fattening up nicely in the new beds in the pale, the third, tray-sown in the greenhouse for fear that it wouldn't germinate so dry an April did we have, was sown at the end of April, and is just being planted out now (three more trays to go, and another crop of sweet peas,) and the fourth will be sown this week.  Where the third sweet pea crop is planted will be where the tulips go in November.  So I'll direct-sow my biennials in the bed NEXT to the third crop of sweet peas so that it's easy cutting (and less walking!) when it comes to cropping next spring.  You see, there is method in my madness.