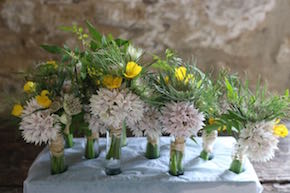 Buttonhole tips
Posy-style buttonholes made with fresh-cut English country garden flowers are very popular and we nearly always make buttonholes like this for weddings.  
Two hot tips for buttonhole management:
1. Don't let the wearers have their buttonholes till the last moment.
Men and boys have this hugging habit, the manliness of which can be bruising to a delicate little posy of flowers pinned to a dark alpacca lapel.
Weddings often take place on hot days, and if gentlemen are allowed to pin those buttonholes to their dark alpacca lapels (or even light linen lapels,) when they're changing after the round of golf, or clay pigeon shootign, with which they've whiled away the morning of the wedding, they risk then sitting in the hot sun drinking pimms or beer at the ushers' lunch, which could be hours long, before the wedding ceremony later.  Even a silk rose risks looking a little worse for wear after a hot lunch in a nice pub, so for that reason ask your florist to deliver buttonholes to the venue for the ceremony, so that groom, best man and ushers can't put them on until the very last minute, when their fussing about attaching flowers to one another will make a charming subject for your photographer while everyone waits for the arrival of the bride.
2. Maybe order a spare buttonhole for the groom to have for the cake cutting.
Posy buttonholes will hold up very nicely during the wedding ceremony and afterwards for the photographs.  But soon after that, especially if it's sunny, coats start to be taken off, jackets flung across straw bales or over the back of chairs.  The champagne and the sunshine and the laughter and the hugging (by now the hugging's much less nervous and more energetic,) can have had a bruising effect on the buttonholes.  This doesn't matter for the ushers and so on, but the groom is very likely still expecting to look tippety top for the speeches and cake cutting.  And the photographer will be on hand then too.  So maybe have a second buttonhole for the groom to have for this next photo opportunity.  
Just a thought...