Country flowers wedding bookings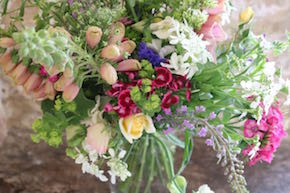 Country flowers wedding bookings are simple to make with us.  Though it's good to give us a little time, and good also not to assume that we are always here waiting for your call.  
We are a small team, and we're spread pretty thin over the garden and the cutting and the conditioning and the arranging, so if you call and leave a message, don't panic, we will call you back, it just might not be today.  Imagine, if you will, that we have you on a list, and we'll save you for when we're not too rushed to speak, for when we have time to really focus on what you're looking for in wedding flowers.  Wedding flowers are not a subject for the bride, the bride's mother, the mother in law to be, and certainly not the florist, to rush at.  So if you're eloping next tuesday, tell us, and we'll ring you back sharpish.  If you're to be married a year from now, tell us, and we'll understand that you're an organised bride who likes to have everything sorted out well in advance.  Anything in between, do say, and we'll rush to ring you back (or not) accordingly.
Weddings take a great deal of organisation, and none of it should be rushed.
Things to think about before having a consultation with a wedding florist:
Are you looking for roses in December?  Then you're looking for a traditional florist who uses imported flowers from their wholesaler, and they'll be happy to help.
Are you looking for wild-looking, English country wedding flowers, strictly seasonal, British flowers grown in the UK?  Then we are the right people for you.
Do you have a budget in mind?  Do tell your florist if you have a budget - this will help them manage your expectations if the budget is tight, help them make sure you get the most bang for your buck, and save everybody hours of research and estimates which might come in thousands of pounds over what you're prepared to spend and have wasted your and the florist's time.
Remember: the important thing about your wedding day is that you're getting married.  The flowers frame this happy event beautifully, but they are not the most important thing.  Niether is the dress, the guest list, the caterer, whether you can have that venue that turns out to be £5,000 more than you expected on the weekend when you want to tie the knot...  
So do ring us to make an appointment to talk about wedding flowers.  And do give us time to get back to you.  And know that if we don't ring until tomorrow, the chances are that today we're doing the flowers for another wedding booked in months ago.  I'm a great one for finishing tasks in order - so I'll get that first wedding done and installed and delivered, and then I'll ring you back, safe in the knowledge that my mind will be clear, and I can focus on your big day, bringing all my event management experience, as well as floristry knowledge, and gardening skills to my consultation with you.
Flowers in the bouquet above: foxgloves, sweet william, orlaya grandiflora, cornflowers, toadflax, ammi majus, alchemilla mollis, sweet peas, lemony cream rose buds.  All grown, cut and tied here at Common Farm Flowers flower farm between Bruton and Wincanton in Somerset on the 1st June 2017.