A big thank you to all our customers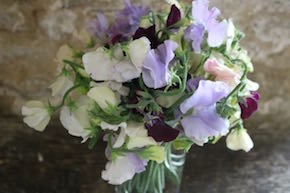 A big thank you to all our customers.
Those of you who've been customers of ours for years will know that I'm always amazed when we manage to pay our bills at the end of the month.  Small businesses like this one depend on so many things for their success: I mean, deciding to create a florist business, based in rural Somerset, which only ever uses British grown, country garden flowers, most of which we grow ourselves on our little flower farm, is not what anyone would ever describe as a guaranteed big money spinner.  In fact, most proper business people I know would describe artisan flower farming far away from London as just plain silly. 
But I've learned over the years, that if we keep up our social media, share our story with all our thousands of followers, keep sharing pictures of what we've grown, what we've done with what we've grown, and reminding people why we do it, that kind customers come back, again and again, to buy flowers from us.
I think some of our clients love the fact that we garden organically on our seven acre plot, that we have swathes of nettles and wild flowers and willow and mown paths so that Common Farm is in some way 'invertebrate world,' as well as a flower farm.  But none of our customers would come back to us again and again, as they do, if the flowers we produced and sent around the country by next day delivery, weren't as lovely as they are.
So I thank you for once again making it possible for us to pay our bills, for encouraging us to sow more seed, plant more plants, widen the number of varieties we grow here, so that the wildlife has a haven here as much as we do.  I really am always amazed at the end of the month when I find I can pay my bills.  So thank you dear customers for making everything we do here possible.