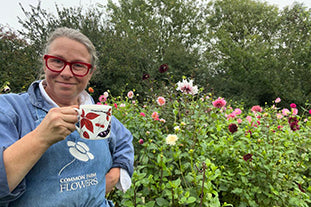 In case you're thinking it's time to lift your dahlias, here's how we do it at Common Farm Flowers in Somerset (zone 8.)
If you'd like more information about growing dahlias, Georgie offers an online workshop on this subject, where you can learn about propagating, growing, and looking after dahlia plants to ensure you have a breathtaking display of fantastic blooms from when they start flowering through till the first frosts. Georgie will also talk about which varieties she loves to plant, diseases to look out for, how to feed and water your dahlia for best results and how to handle pests.
The next online workshop is on 15th November 2023 at 5pm but these sessions take place every year (if you are reading this after this date!) And if you can't join in live, we record the sessions and send out recordings afterwards so you can watch in your own time. You can find out more about the workshop and book a place here.