January in the garden - what are we doing this month in Somerset?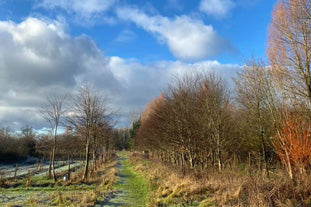 They always say not to go on the land when it's too wet – well at the moment it's not just wet it's brass monkeys cold! I have no heat in the greenhouse or either of the tunnels, but am being careful not to water so that the ground stays warm and keeps the plants I have in those spaces just warm enough.  As soon as this cold spell breaks I'll water, but not this week. 
Meanwhile there are plenty of jobs out there to do. 
First I need to prune the roses, and weed and mulch them – we use lovely 
Lakeland Gold from Dalefoot Compost
 which really helps break up our clay and gives the plants enough of a feed that we don't need to feed in the summer. 
Then I need to just work my way round all the beds here, making sure that each section has had the gutters dug out to help with drainage, and a quick weed, and a mulch to get the empty spaces in good heart for planting in the spring, and to feed the perennials and shrubs. 
And I may have ordered a few new bare root roses… for which a bed needs to be prepared. 
Always much to do, and with two kids at home 'loving' being home schooled I really need to focus and not waste time.