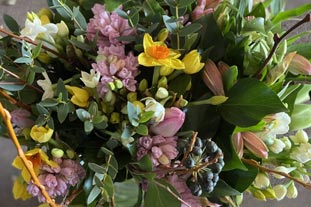 Well isn't it getting lighter?  I have to say that it's only as the light gently fills up more of our days that I realise how slowed down I am by the dark.  Work that would overwhelm me in the last weeks before Christmas now becomes perfectly possible, even finished by lunchtime, when it's light before the alarm goes, and still light at the end of the working day.  From this weekend on we have ten useful hours of daylight every day which has me rubbing my hands with glee, and reaching for the seed packets as I can almost smell the sap rising.
If you are planning to sow seeds for a summer harvest join in our online seed sowing demo on 19th March. We also have two specialist online sessions coming up: our sowing sweet peas demo (26th February) and growing, cutting, conditioning and designing with dahlias (31st March,) both of which deserve a little special treatment which will bring you the most fabulous of flowers to make all your friends and neighbours jealous. 
Our online workshops are going down a treat and so are often selling out.  Depending on when and whether we are allowed to open up to hold real live workshops here at the farm we will schedule more.  We are all holding our breath here to see how the pandemic goes, and what the government will let us, or not let us do. 
Meanwhile, our Mothering Sunday page is now open for orders (I know! But have you seen how early Easter is this year?  Which means Mothering Sunday is early too!!!)  Please remember we do sell out so it's worth ordering early.
And for fun, do have a listen out to On Your Farm on Sunday 14th Feb (6.30am Radio 4 – don't worry, if you won't be up so early you can listen to it here later,) when the lovely Verity Sharp and I will have a catch up two years on from the last time she visited us here.
There, enough purple prose.  If you are ordering seeds for sowing I cannot recommend more highly my dear friend Higgledy Garden.
Georgie x