February in the garden - find out what's happening on our flower farm this month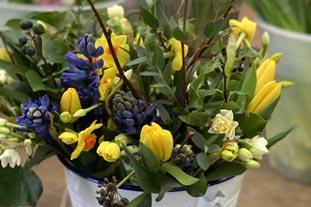 Here the serious gardening now begins this month.  We've been ticking over during the dark, wet winter, trying to keep off the land as much as possible, and mulching and pruning and hedging when we can.  But ten hours of daylight gives me permission to start sowing seeds for our first outdoor crops of annuals. 
The indoor annuals are fattening up nicely in the polytunnels, suddenly noticeably putting on a bit of growth.  I'm slightly obsessive about not over watering them still, as a nasty frost might rot the lot if they are too wet, but about once a week now I'm giving them a little sprinkle of water, and may even soon allow them a very watered down feed. 
Then outside we need to weed and mulch and prep the beds, working round the biennials which too have been sulking outside where we planted them in September, and the tulips which we did get in before Christmas, despite the late arrival of their bulbs. 
I have also been enjoying one of my favourite winter gardening pastimes: helping the snowdrops spread.  When we came here in 2004 there were three small patches of snowdrops under a hedge.  Every year at this time of year I dig up half a clump and split them through the edges of the woody patches in the garden, under the crab apple trees, in space at the edge of cut flower fields and hedges, and they are really beginning to become something eye catching in the dark winter days, an early promise of exciting spring to come. 
We aren't major galanthophiles, and only have the native wild snowdrop, Galanthus nivalis, but the little nodding heads of this sweet winter flower take me by surprise every year, and give a little reassuring light in the darkest day of winter.