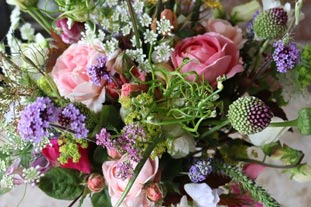 Dear friends

What a long time it's been!  I will admit I rather lost the will and all that at the end of April and simply couldn't think of a positive thing to say to you all, so thought better to say nothing at all.
Feeling much more chipper, despite the remarkable lack of rain, I think it's definitely time for a newsletter from us, as things are slowly moving on – I think…  And while I don't recommend any of you beetle down here for a visit, we are beginning to see light at the end of the Covid tunnel, and are preparing madly for a relaunch of our workshops and garden tours in September and onwards.
September, you cry!  Why so far away?  Lots of other people are opening up sooner… 
Well, the truth is we only have one lavatory for flower farm students and visitors, and so we are nervous about welcoming groups who've driven for any distance and will very likely need a pee.  This is also our family home, and while the children are here being home schooled, it's very hard to make the studio and office completely kid-free.  It's tough for them having two parents working full time, even if they are working from home, so to ban them from the office and studio during working hours when they might need to ask how to add up their maths or spell their English seems a step too mean. 

Still, in excitement at the thought of inviting you all back, I have this very morning ordered a whole guard of hand sanitiser dispensers so that we can have them inside and out and by the door of my lady's chamber and everywhere, disposable gloves, and vast amounts of very posh coffee so that when we do invite you all back, you'll not only notice how impossibly clean the place is, but be able to reassure yourselves with a quick extra wipe, squirt etc while you drink posh coffee from a recycled disposable cup untouched by anyone (within Covid spreading time,) but you.
So please do be patient for a little while longer.  We have been stunned by the kindness and relaxedness of our booked-in students and garden tour enthusiasts, because not one of them has asked for their money back, and all of them have happily said, 'Oh keep the booking, we'll come when you're ready.'  So thank you.  A whole new schedule of workshops, classes, tours and so on will be ready soon, and we'll be sure to let you know when.
In other news: pretty much all of this summer's weddings have been postponed.  This means two things: one, we are already busy for next year, and two, therefore, if you are thinking of asking us to be involved with your wedding flowers next year then do let us know well in advance.  You'll find that a great many suppliers/venues are booked up well ahead for next year because of all the postponements from this, so if you are planning a wedding next year, don't hold back in contacting your preferred suppliers.  
And once again, thankyou for all your flower orders - some of which you can see on our Instagram grid.  Since the beginning of the lockdown we have been sending out twice or sometimes three times the usual flower orders each week.  At first I felt completely overwhelmed, but we've now settled down, and I've learned to sell out a bit earlier so that I have a few in hand for my lovely aunts when they ring or beloved customers of many years' standing who need a last minute bouquet.  We're running at about a fortnight ahead for orders, so if you'd like to order flowers, then do think ahead a little if you can, as you'll find the website sold out for a week or two whenever you log on.
On the subject of websites you'll be excited to hear that we are having a new one!  Any one of you who has found our current site clunky and irritating, especially when it refuses to send confirmation emails, will be glad to hear this.  It's easy to make a website look nice – the great challenge in life is to make it look nice and work effectively at the same time.  
So keep safe and well all of you.  Enjoy this sunshine, but do a rain dance for us sometimes.
And thank you thank you thank you for all your flower orders – thanks to you our heads are above water in a time when two thirds of our business has stopped because of Covid.  We are enormously grateful.
Georgie x