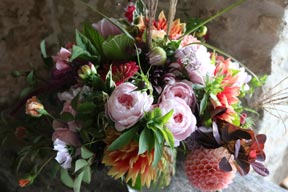 Well it certainly feels like autumn, as I sit here writing and the very very frightening thunder and lightning crashes about me, and the rain thrums down in stair rods. 
It's been an exciting week for the dahlias, and I'm not the only one who pre-emptively cut a lot of them to save the plants from the wind – there's nothing more guaranteed to snap a dahlia stem off at the ground than the heavy head of a waterlogged flower.  Sadly the last of my summer weddings to still be hanging on in there was finally postponed this week, but I still managed to give my lovely bride a cheery treat, by cutting a huge bucket of the dahlias which should have dressed her special day, and dropping them off at her front door for her.

Bon, enough wingeing about the weather: I'm hoping that all this wind and rain is going to give way to a glorious autumn, with the ground nicely filled up with water, and the last couple of months of garden flowers glowing in that gorgeous warm September and October sun. 

We have LOTS of workshops scheduled for the next couple of months, both here and online, so do have a look at our calendar and choose yourself a treat. All our face to face workshops are now taking place in very small groups to ensure we can remain socially distanced and our new outdoor canopy has proved a big hit! And for those who can't reach us for a day out or who can only spare an hour or two then our online workshops are a new and perfect solution to learning more about how you too can flower farm, arrange flowers, plan your year....
I'm looking forward to our eco wedding flowers retreat - a 3 day workshop here at Common Farm that explores ALL aspects of wedding flowers - cutting, arranging, installing in a small group (there's still time to book if you'd like to join us - all welcome, amateurs and professionals alike!) Our face to face career changing flower farming workshop has just a handful of spaces left - be sure to book soon if you want to secure you place at this potentially life changing day! And if you want to learn how we do our hand tied bouquets at Common Farm then join me on 15th September where you'll be able to practice alongside me! And we've just one place left on this year's garden tour - a unique opportunity to join us for a wander around the farm, hearing how we do things here. 
If you can't make any of the dates we have listed, we can always book in a special zoom session if there's something you particularly want to learn about, so do get in touch – for example I'm just organising a special morning for two ladies who can't get here for a workshop, but who are keen on learning more about a particular side of flower farming.
Meanwhile the flaars are still flaaring, so do order for delivery, but we are still (thank you kind customers,) selling out a fair bit in advance, so don't leave it too late before you order for a special birthday, anniversary, or just to say, 'I love you.'
And as for wedding and event flowers, goodness it's been a tough year for anybody planning any kind of celebration! And with all the postponed events next year is very full already. So do get in touch sooner rather than later if you'd like us to supply flowers for a special occasion. 
For all enquiries it's best to email georgie@commonfarmflowers.com, and I promise ill get back to you as quickly as I can.

So happy gardening all – do come on a workshop, online or in person – I like to teach other people to grow and arrange flowers even more than I do myself.  Apparently I'm quite good at it…

Georgie x