The considerations of a wedding florist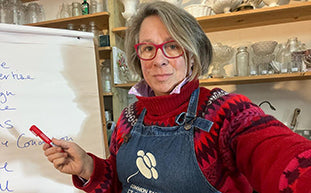 It's the time of year when newly engaged couples are beginning to look for suppliers for their weddings.
Here are nine points a good florist will consider before creating a plan (including cost!) for your wedding flowers.
I hope this will be useful to engaged couples and florists alike.
If you'd like to learn more from Georgie, book a place on one of Georgie's workshops or demos. Georgie offers a number of online demos and workshops specifically focusing on wedding flowers, from arranging to planning for doing wedding flowers. And she offers some fabulous days at the farm in Somerset where you get chance to learn from Georgie in person, as well as cut and create arrangements and large installations that would suit a wedding! You can see all the wedding focused sessions here.