Three ways to arrange with hellebores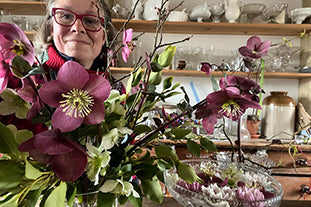 Join Georgie as she creates three different arrangements with that queen of the spring garden, the hellebore.
Inspired by 3 Porch Farm in Georgia, Georgie dreams of a glade of hellebores flowering in woodland she and Fabrizio planted eighteen years ago.
So going against all her own rules of financial probity, Georgie treats herself to twelve plants, and brings them home, using some of the blooms to create three amazing arrangements, very different, using these beautiful flowers.
Have a watch, and then have a go!