Winter gardening for wildlife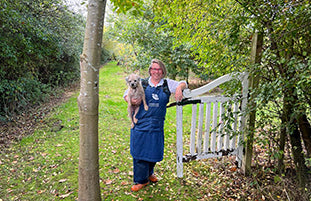 Join me as I take a wander round the wild edges of Common Farm Flowers looking at how the wildlife will live through the winter, how to plant more trees, how the bees will stick their hives together in the spring.
It's a beautiful autumn day, TeaCake the border terrier is on hand to amuse, the trees are amazing colours this autumn, and there's all sorts of evidence of a thriving ecosystem here on the flower farm.
Fabrizio always says that if you look after the invertebrates the rest of the food chain will look after itself. In this clip that's just what Georgie and Fabrizio are up to.