Wedding florist prep in June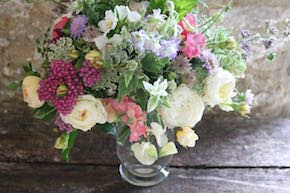 It's Tuesday, at the end of June, and all over the place florists are beginning their prep for the next weekend's weddings.  Here at Common Farm Flowers between Bruton and Wincanton in Somerset we've been washing and polishing hurricane lamps, we've counted out the pillar candles to go in them, we have blue tack, we have cable ties, we have ribbon, string, a multi-shaped ladder.  The van, which was crashed into by a teenager on Saturday, can't go into the menders until next week because we need it for the garlanding which will be loaded in on a giant table top when we deliver it and install it on Saturday.  Our buckets are washed and clean, our cutting list has been made.  On Thursday there'll be about 4,000 stems coming in to our flower studio, from our own three and a half acres of cut flower patches, and also from other growers nearby.  By Thursday evening the prep will all have been done.  Sharon and I will have a list each of what we'll be creating on Friday: she'll start with the garlanding, I with the bride's bouquet, and we'll meet in the middle after flowers for the bonnet of the vintage landrover, and flowers for the bar, and flowers for the table centres, and big pedestal arrangements made in shiny new galvanised buckets (bought, polished, taped, ready,) we'll meet in the middle with posies for the bar and the cake and the loos even.  
We aren't the only florists revving up for a wedding this Saturday.  All over the country there'll be florists planning to pop down to the marquee to check it tomorrow (Wednesday,) to make sure they've got the garlanding lengths right, to see the wheel the marquee company are supplying but which the florist is garlanding, to make sure there'll be space to back the van up to the marquee, to get through the gate into the field, to check what they'll need to attach the garlanding to the fixings arching over the church porch.  
All over the country this will be happening.  Wedding flowers are an exciting adventure for the florist because no two weddings are the same.
In other news: I have a self-seeded Rambling Rector rose climbing up the deer fencing by the orchard outside the kitchen door.  This is the best thing that's happened all year.  The idea of a rose seeding itself!  And coming true!