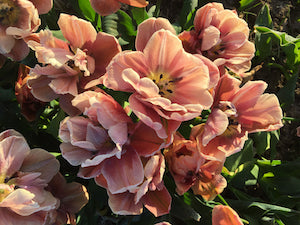 We order them in August, and then in November we plant tulips by the thousand here at Common Farm Flowers near Bruton in Somerset.  From the end of March to early May we will have tulips in all our flower delivery bouquets as well as more for our wedding and special event flowers.  
This year I'm glad there's been a good snap of cold weather before we plant.  Tulips like a bit of cold to help kill off diseases, which is why traditionally they're planted in November.  We do budget to lose about 10% to tulip fire (when the tulips come up short and stunted and twisted and don't really flower,) and so don't plant the tulips in the same place for another three years so there's no chance of a build up of disease.
We treat tulips as annuals here, planting them to flower just once and then composting the bulbs.  We're growing them for cutting, not for show, so we don't need to plant them especially deep in the hope that they'll naturalise and clump up and reflower year after year. 
So we dig a relatively shallow trench, perhaps four inches deep, line it with a little municipal green waste compost, and place the tulips tight in rows, almost shoulder to shoulder, so that they don't take up too much room.  We then cover them with a little more municipal green waste compost, and shovel back the soil to cover it all.  A light rake of the bed afterwards helps tamp the soil down without compacting it.  Chunks of old roof slate and a white chalk pen make labels and there we are.  If you wanted them to naturalise and come up year after year you'd plant them more deeply, and a little further apart.
The tulips will settle now (it's 20th November and they're all in,) and start to shoot in February.  Depending on the weather they'll flower from mid to late March through to early May.  I will admit I can't wait!
The variety in this photograph is Belle Epoque, a luscious caramel coloured tulip which we always include in our planting list.  Here she's a little blown, and edged with frost.  How I love her!