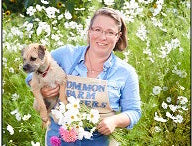 This flower farmer is going on quite a tour this year.  With over fifty dates for talks, demos, workshops, garden tours, here at the flower farm, and at lots of WIs and Horticultural and Flower groups around the country, it's going to be busy.  Keep an eye on the blog and social media and I'll always mention where I'm going next, and you can always book a workshop or a tour here by going to our workshop calendar on our website.
I'm starting the year at Charlton Musgrove Village hall on Friday 2nd Feb giving a Growing Cut Flower for Pleasure and Profit talk in aid of the Raise the Roof Appeal for our village church. St Stephen's has thirteenth century origins, and is a building which has served this community for eight hundred years, and it's in need of a bit of tlc (it has a hole in the roof, and while we're at it we might add a lavatory to the facilities, and perhaps a place where we can boil a kettle or wash up a wine glass...) 
There'll be cheese (thank you Godminster and Wyke,) and wine (I hope thank you Somerset Wine Co) and I'll give a talk about our growing year here at Common Farm Flowers, and I'll demonstrate one of our classic hand-tied bouquets with some gorgeous British flowers, and there'll be plenty of time for questions.  Hopefully you'll leave inspired to have a go growing flowers and making bouquets with the fruits of your labours, perhaps warmed by lots of nice cheese and wine (obvs do take care not to overdo it if you're driving!) and our little church's Raise the Roof appeal will be a little closer to its goal.
 Book tickets here please.  And do note that Michael le Poer Trench who stewards the beautiful gardens at Stavordale Priory and Charles Dowding of No Dig fame will be giving lectures also in the coming weeks if you'd like to come to those too.