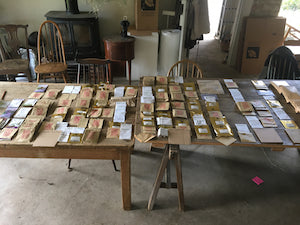 Today is a great deal about ordering cut flower seeds and I thought I'd share a few seed tips I've learned along the way.
As you can see from the photograph, I always over order.  This is the seed collection laid out at the end of the season, when ideally I'd have used most of the see up.
Lesson #1: order a little seed and try and use it up.  Fresh seed, direct from the suppliers, should give you about 95% germination rate, so you'll do better with small quantities of fresh seed, than forever playing catch up with yourself using up old.
Lesson #2: seed is relatively inexpensive, and none of us has an enormous amont of time, so if you get better results from fresh seed, then I would spend the money and order fresh, rather than try and get good germination from seed which might have lain around for several years.
Lesson #3: order direct from the suppliers.  All good seed merchants have online shops.  Order from them and the seed will be fresh, and will have been kept in better conditions than the hot, over-lit, seed department in a giant greenhouse which calls itself a garden centre. 
Lesson #4: when the seed arrives keep it somewhere cool, and out of direct sunlight until you're ready to sow it.  When you sow seed always write the supplier and the date you sowed the seed as well as the name of the flower variety.  That way you can check with the RHS website if you have germination problems, and that may give you a hot tip to solve the problem, and if you do everything right, and there is still no germination, you know who sold you the seed and so who to go to for a refund.
Who do we buy from?
Well, Ben Ranyard at Higgledy Garden is a cheerful fellow with a lovely selection of cut flower seeds on his site and a good blog with lots of hot tips for growing a successful cut flower patch.  We always use Higgledy Garden seed when we hold our Cut Flower Patch  and GYO Wedding Flowers workshops.  
We love Chiltern Seeds for unusual varieties.  I went to the Oxfordshire barn where they work from once, and was amazed at the way they keep their seed in temperature controlled drawers under very clear work surfaces.  When you order seed from Chiltern, they open up the relevant seed store, and scoop out the right quantity of seed using a doll-house-sized ladle and pop them into the packet especially for you.  There are different sized ladles for different seeds.  It's a fascinataing process.
We buy our Sweet Pea seed largely from Kings of Coggeshall (because my Mama always buys her seed there, and who am I to argue with my Mum?)  Easton Walled Garden also has a great selection of sweet pea seed, and if you ever find you're in the Grantham area on the A1 in the summer I recommend you stop for tea and cake and a wander round the Easton pickery - what an inspiring garden!
So enjoy ordering seeds.  Remember not to order too much, use fresh, maybe have a seed swapping party with friends to mak sure you all use all this year's seed up and waste nothing.  Or even have a seed-sowing party, with wine even, one every six weeks or so until all this year's seed's used up.  And then come on a Posy Tying and Garden Floristry workshop here to learn how to cut, condition and arrange the flowers you've grown.