Flower farm wedding planning season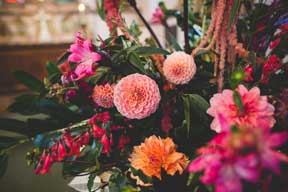 Pic on this post by Dave Watts.
Here at Common Farm Flowers between Bruton and Wincanton in Somerset it is wedding flowers planning season.  
Whissh!  In come the enquiries: pastel shades for a registry office mid-week wedding in June, bright cactus dahlias for a garden reception in September, rich, moody colours for a spring wedding in April.
And whisssh! Go my replies. Yes, we can work to any budget.  Yes we supply only the very best, seasonally-grown, freshly-cut, English country wedding flowers.  Yes we grow most of the flowers we use in our floristry ourselves, and when we buy in extra we only buy from other British flowers growers.  Yes, the English country garden look is exactly what we do.  And yes, we absolutely agree that the way forward is flower-foam free floristry.
It's a fun time of year when the board across the office from my desk fills up with dates booked for weddings and events.  The diary has to be carefully managed so that there's still time to hang out with the children, show people round the gardens on garden tours, hold workshops and seminars in our lovely stone studio barn...  And grow the flowers!  
My next job, after I post this, is to go and sow phacelia as a green manure on a newly prepped bed at the top of the lady smock patch... Phacelia is a super-hardy annual and will germinate opportunistically on warmer days and the tiny plants will just hug the warm soil until the weather warms up.  But the carpet of green the phacelia gives us acts like a mat to prevent the marauding of equally hardy annual weeds, and then we can dig the small phacelia plants into the ground to help condition our thick, clay soil, before we sow annual crops in that bed for the summer. 
After I've sown the phacelia I must then start making a seed sowing date list.  We have a new seed box and we've had a serious seed check.  We already have a good number of annual and biennial varieties in the ground, waiting for the spring.  My job is to make sure we successionally sow enough annuals to balance the show stopper flowers we have in the garden, so that all these weddings on the board have the blush, the moody, the cactus size and shape and colour that they've asked for.  Once I've started laying out what we'll sow and when, I'll get on to my friend Ben Ranyard at Higgledy Garden, who has an excellent cut-flower seed catalogue, and who will supply the new seed we need to sow ourselves, and for our upcoming cut flower patch workshops (Grow your own wedding flowers, and Grow your own cut flower patch.)
For all wedding or event flower enquiries do email georgie@commonfarmflowers.com.
What our customers say about us:
'Wow!  What flowers!  Thank you so much for your incredible and brilliant work for our wedding.  We both just loved the flowers in the church, the marquee, on the caterer's tables, everywhere.
Interpreting people's vague and amateurish ideas must be one of the hardest parts of being a florist, but you really got what I was hoping for, and elevated it to the max.  The effect was far better than I was hoping, with fabulous, energetic colours, and the most interesting of flowers.  I was blown away by them.
Also the marquee team, the planners, the caterers, everyone said wht a dream it was to work with you, and how organised you all were.  As you can imagine, that makes it all so much easier for me, the bride, amd most importantly my mother!'