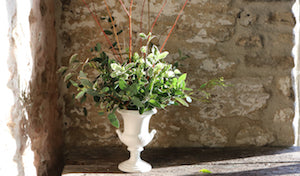 At this time of year it often seems as though there's nothing much in the garden to bring in to the house.  But I beg to differ.  Take your scissors out and cut yourself a bit of foliage and a few stems and you can make a twiggery pokery arrangement like this which is very effective, without being especially flowery.  
To make it you'll need three or five stems each of about five or six different foliages or twigs.  I've used pittosporum, brachyglottis, eucalyptus, box, red stems of willow and a little curly willow.  
I've used fat stems of box to make a nest to hold the rest of the foliage up, and have just popped each stem in lightly, letting the stems crossing in the water make a sort of scaffolding to hold everything in place.
I've then popped a couple of bunches of English grown narcissi erlicheer in the mix.  They're in tight bud in this picture, but will soon come out and make splashes of velvety balls of scent throughout the arrangement for the next week or so.  
The urn is a vintage find given to me by stylist Amanda Russell, who'll be here in a month or so teaching her wonderful Style Your House workshop.
For more on using the contents of your garden to make wonderful arrangements for the house, come on a posy tying and garden floristry workshop here at Common Farm Flowers near Bruton in Somerset.  You'll spend the day harvesting flowers and foliage from our garden, making gorgeous flower arrangements which you'll take home along with inspiration and enthusiasm for making the most of what you grow in your house.