British flowers for Valentine's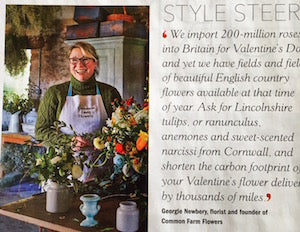 It's lovely to have been given a chance to big up British flowers for Valentine's in Homes and Antiques magazine this month.  We import up to two hundred million roses into the UK each year for Valentine's flowers which is crazy when we have growing in this country huge quantities of the best quality tulips, scented narcissi, gorgeous ranunculus, anemones and more.  Try asking your florist for British grown flowers for your Valentine this year, or, even better, order direct from us.
In other news: this photograph was taken by the super talented Nick Carter with Amanda Russell styling.  You may not realise that usually I look much more through-a-hedge-backwards in photographs (and in real life,) and that the surroundings of this photograph are the usual flower studio untidiness which goes with creating fresh flower bouquets day after day through the year.  
The reason you can tell none of that is that Amanda is the queen of telling a story through photographs.  She cleverly places objects (me included,) so that they don't just catch the light, but so that they tell you lots about the rest of the space around the shot.  Of course, in reality, the rest of the space around the shot is filled with boxes, and tape and an ordering system, and Sharon busying about getting that day's flowers out - a story, but not the story Amanda wanted to tell in the photograph.  Amanda has a brilliant eye for making more of something than it already is.  She sent me off to change out of one jumper into another, told me not to overdo the makeup so that I don't look like me, but to put on enough mascara that you can see that I do have eyes.  She was also the one who realised that I freeze when having my photograph taken and so have a habit of gurning lopsidedly into the camera and failing entirely to look attractive.  So she told dirty jokes throughout that shoot as a result of which I really am laughing.
She's a clever girl Amanda, styling hundreds of magazine shoots per year, as well as teaching interior's styling workshops here.  Her workshops here are good for anyone who likes to photograph what they do, from people who have an air b&b, to people who use their house as their studio, as a frame for the work they do, whatever that work is. 
Amanda's workshops are full of lightbulb moments, leading you from learning to understand how magazine shoots have been created, to making your own moodboard focussing on the looks you like to achieve (high point for me of the day - positively therapeutic!) and on, to creating your own still life in the studio barn at Common Farm, and learning to make the most of the story you tell in the still life in your photograph.
To say Amanda's styling day is inspiring is an understatement.  It's a day focused on interior's styling, but which makes you realise how creative you can be, rebooting your styling eye, and setting to manual all your ability to make something beautiful out of the every day which surrounds you.
Book your place here.