Volunteer at the flower farm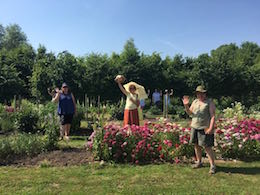 We are in the market for a new volunteer here at Common Farm Flowers.  We're based between Bruton and Wincanton in Somerset, so someone relatively local would be great. 
We love our volunteers and generally have one person at a time coming one day a week for as long as it suits them.  In the past we've had Ann, who was the queen of hand weeding, we've had Penny who was a wonderful propagator, and now lovely Denise, a natural florist, is moving on because she's off to live in Nuremberg (how cosmopolitan!)  There's the dream team too, Andrew and Lorraine, who help out with busy wedding prep, so there's quite a team here, and we always try to make it fun and insteresting for anyone here on a voluntary basis.
So if you fancy a day a week on our little flower farm we'd love to hear from you.
We need you to be able to be left to get on with a job (self-motivated!)
We need you to commit to the time you agree to be here, as we'll save jobs for you to do, and if you don't come we'll get behind.
And in return we'll share all sorts of gardening knowledge, information about running a small business, and teach you a little floristry.  We promise not to abandon you
Volunteers here usually give us a day a week for between three months and a year and we hope we send them off at the end of their time here with lots of new skills, and an increased enthusiasm for making something beautiful with what we grow.
Please email applications to Georgie@commonfarmflowers.com.  Some gardening/floristry knowledge is useful, but for the right person we'll happily give plenty of training.  
And we look forward to welcoming someone new to the team at Common Farm Flowers.