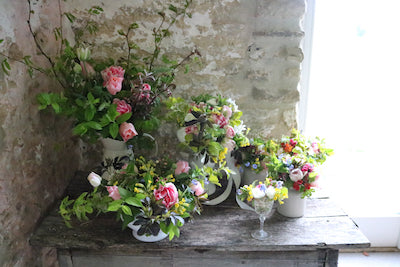 Wedding flowers preparation here at Common Farm Flowers near Bruton in Somerset is the equivalent of our rubbing our creative hands with glee each Monday morning through the season. 
Whether the wedding be a dinky little intimate number, like the one illustrated here, or, buckets of mixed flowers for the couple to arrange themselves, or a full Fragonard (which is the description we use for a huge, extravagant installation,) on Monday morning Sharon and I get out the orders.  We then walk around the garden, making sure we have what we need for each event growing happily in the borders. We earmark this lilac or blossom or tulip or forget me not for each event, making a cutting list as we go so that we have an idea of what we'll be cutting for each event on Thursday. 
Then, back in the studio we check ribbon, vases, jars, candles, making sure there'll be no last minute panics when it comes to creating the flowers on Friday. 
We grow most of the flowers we use in our wedding flowers through the summer, but when we don't think we have enough, we call on one or two of our helpful neighbouring flower growers, and order a bucket or two of extras from them - there's nothing worse than doing floristry with two few flowers to hand!  We only ever use British flowers in our floristry - we never use imported flowers.
We have two events coming up this weekend and I'm looking forward to them.  We'll cut the flowers on Thursday, spend the day arranging them on Friday, and pray for sunshine on Saturday so that our lovely couples feel smiled upon as they plight their troth.
We supply wedding flowers throughout the UK so do ring us if you'd like to find out more about how we can help you turn your flowery wedding dreams into reality.  Our number is 01963 32883, or email georgie@commonfarmflowers.com for more information.