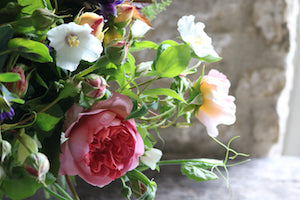 Hurrah! It's British flowers week again - THE week in which we flower growers and specialist florists take the opportunity to showcase our work all over the place.  So I thought I might give you a couple of paragraphs on how we began and what we do here.
Common Farm Flowers grew out of a desire to create an eco-paradise, abuzz with bees and butterflies, on our seven acre smallholding between Bruton and Wincanton in Somerset.  We started assuming we'd be more traditional smallholders, fattening pigs and keeping chickens and maybe stalling out at farmers' markets with fruit and veg.  But we soon found that we couldn't bear to send the pigs to slaughter, that the fox was a keen thief of our chickens, and that we were better at growing sweet peas than cabbages.  So when a neighbour sent me a bouquet of flowers through the post I was inspired: I could grow flowers and sell them!  This was eight years and two months ago, and we now send about 1,600 bouquets by post per year, supply flowers for between fifty and sixty weddings, and I teach and give talks and garden tours etc about sixty times a year.  
We grow about two hundred and fifty different varieties of cut flowers and foliage here on our farm, but half of it is still wild.  Why you ask?  Welll, we've lost 90% of our native wildflower meadows in the UK since the second world war, so for Fabrizio the creation of a wildflower meadow was always part of the deal here.  Besides, three and a half acres of cut flowers is plenty for us to handle, and the wildflower meadow, though I can take no credit for it at all (it's ALL Fabrizio's work,) is as beautiful a thing as I've ever seen - a tapestry of colour kaleidoscoping through the seasons from May till we mow it in late August.  
We've had five garden tours here this week - a great opportunity to show people the meadows as well as let them drown in the scent of the sweet peas filling the tunnel to bursting, three hundred and forty rose bushes in full flower, the ladybird larvae munching their way through our black fly with great enthusiasm...  If you'd like to book a tour for next June then do give us a ring or contact georgie@commonfarmflowers.com and we'll book you in.  Equally, we have Fabrizio's Create a Perennial Wildlfower Meadow workshop on Tuesday this week and we have a couple of spaces there if you'd like to book in.
So here's to a great British flowers week all - may the rain fall gently, the sun smile kindly on the faces of your flaars, and let's all celebrate the gorgeous world of English country flowers in this incredible June which is producing the best roses I've ever seen.  Right, I must get on.  I need to sow next year's biennials!  Foxgloves 2019 here we come!