Art weekend at the flower farm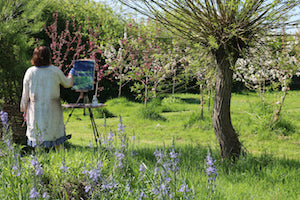 Sometimes we just give in and do things for fun.  And this weekend planned for the end of July this year is one of those times. 
Really arranged so that our great friend artist Katie James can spend the weekend painting pictures of the flower farm along with Fabrizio Bocca (my other half,) and various other friends, we've invited NEAC (New English Art Club) member Alex Fowler to come and lead a weekend's painting pictures of, in and around our flower farm between Bruton and Wincanton, Somerset.
If the weather's glorious then painters can set up their easels all over the farm, to paint the flowers, but also the wildflower meadow, the orchards, the strong shapes made by the avenues of trees and sweeps of hedge... and if the weather's terrible then we'll just cut all the flowers in the garden and bring them into the studio where people can paint them. 
It's been a dream of ours for years to open the garden to painters.  Katie comes often to paint here and always leaves with three or four canvases gleaming with oils featuring dahlias or blossom, almost abstract swathes of green lights and shades, or the tiny details of three buds in a coloured glass vase. 
So do come and join us for this wonderful opportunity to paint with the direction, enthusiasm, and experience of wonderful Alex Fowler for support. Don't feel you have to be any kind of established artist - I'm hoping we'll get a really mixed group (max ten people,) from enthusiastic daubers to the solo-showers like Katie herself.  It will be fun, informative, hopefully interesting and inspiring, and I promise the lunches will be delicious, the wine will flow, and a great experience will be had by all.  Book your space through the link below and see you here soon! 
Ps for places to stay near here see the links on our about page.