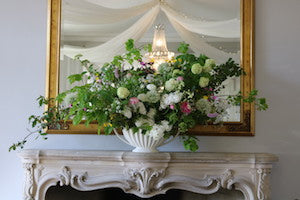 I've been meaning to post about the royal wedding flowers ever since the big day, but we have been busy ourselves (ahem!) and so this at last is my first slow Friday for months and I'm playing catch up.  I thought Philippa Craddock and her team did the most incredible job creating flowers for Megham and Harry's wedding - they were stunning!  AND the most important thing about them, I think, was that they were done without using flower foam.  
When booking your wedding flowers do have a think about how the designs are created, and if your florist suggests working without flower foam do go with them.  Flower foam is made out of the same material as plastic bags and takes as long to biodegrade (practically an eternity!)  Creating flower installations without flower foam makes a much lighter look, and allows a much more country feel as you can use flowers which wouldn't last a minute in foam.  This, of course, is great for country flower growers like us as we delight in creating with flowers which really have just been brought in from the garden.  
So when you're thinking about your wedding or event flowers, and especially if you're determined to have British grown flowers, not just because they're lovely, but because you're concerned about the ecological impact of flowers being flown in for your wedding from all around the world, think too about how those flowers are put together, and if you can ask for flower foam free arrangements then do.  The world will be a cleaner place for it and you can say proudly that your wedding flowers absolutely didn't cost the earth.