Why buy British grown flowers?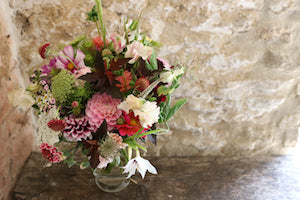 So many good reasons to order British flowers.  Here are just a few:
Buy British flowers because flower growers feed the bees.  As Fabrizio always says, 'Look after the invertebrates and the rest of the food chain will look after itself.'  So buying British flowers means you're contributing to an economy which supports our beleaguered bees.
Buy British flowers and you will find you can have on your kitchen table a full cottage garden herbaceous border of delight which wouldn't be available from big importers, who only supply flowers which will travel out of water, and will last longer, because of the delay between cutting and the flowers arriving at your door.  British flowers need fewer chemicals to last because they're fresher when you buy them.  British flowers can be delicate varieties which need to travel in water because they have less distance to travel, and the growers will put their precious little people in buckets of water and deliver like that.
Buy British flowers because they'll not only be fresher by days than imported flowers, but their carbon footprint will be no further than the short distance they've travelled.  We have lots of brides come to us a) because they love the flowers we grow, and also b) because they don't want their wedding flowers to cost the earth - and when they say 'Cost the earth,' they don't mean financially.  
Buy British flowers and support small businesses - you'd be amazed how many flowers you can cut out of a relatively small space.  Our flower farm is on a seven acre patch, half of which is wild, willow wood or orchard, and the rest of it, so only three and a half acres, is our cut flower farm.  Out of this area we cut masses and masses and masses of flowers every day for you.
Buy British flowers and you can be confident that the flower farm is not poisoning the environment.  In the UK we live on a very small island which is quite (ahem!) crowded.  And we are fortunate to live in a democracy which protects that environment by law, and the people who work here are protected too.  Of course there are brilliant eco and fair trade growers all over the world.  But in the UK you know that, even if the flower farm does use chemicals (ours doesn't!) that the farmer is forced to grow their flowers responsibly, both in the chemicals they use, the run off that comes off their land, and in the salaries they pay their staff.
So buy British flowers.  Here, from Common Farm Flowers between Bruton and Wincanton in Somerset, we can send flower delivery bouquets by courier all year round, UK wide delivery, we love to create wedding flowers, and we teach masses of workshops on how to grow, use and even sell British flowers.  And we only ever use British flowers in our work.  So order today from us and support the revolution in flower buying which is happening here in the UK.