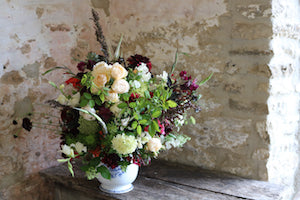 The greatest compliment we as florists can be given is to be asked to do funeral flowers.  The flowers chosen to celebrate a life are there for many reasons, and when people ask us to do them, it's often because the person whose funeral it is was a gardener, or a walker, a person who loved the outdoors, countryside, real, fresh, growing things on which they'd delight to see a bee or a bird.  
This may look like a huge arrangement in a vase, but in fact it's a funeral sheaf having a drink.  We make it as three bouquets tied together into a huge, flat backed, hand-tie, which can then lie comfortably on the coffin.  It has width to fill the space, but height too. And it's really important that the view when it's lying on the coffin, flower heads towards the congregation, is full of life and interest.  
In this case, we made the sheaf the evening before the funeral, and it had all night in deep water so that the flowers would be not at all thirsty when lying on the coffin.  This huge vase holds almost a gallon of water, and I filled it right up before leaving the flowers over night.  They drank a whole inch during the night.  I also gave them all a good spritz with fresh water so that they could absorb freshness through leaves and petals, as well as look dew-drop fresh when we delivered them.  
The colours were chosen by the family, and I think the whole came off well.
For me, funeral flowers are the most important commissions we carry out.  And since we have our own flower farm here between Bruton and Wincanton in Somerset, it is our pleasure to make sure that the flowers we create for all occasions are all always made exclusively with British grown flowers, mostly grown by us here on the farm.