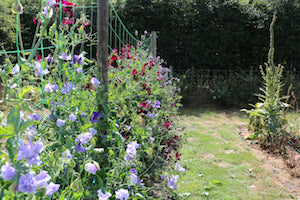 Ok, so it's not funny any more.  These endless boiling hot days of relentless sun are getting me down.  I really really really would like some rain.  And I bet you would too.  
So I thought I'd give you some hot tips (ha ha! you should see the perspiration gently glowing off my nose!) for keeping your garden going during a drought.
The cut flower patches at this flower farm between Bruton and Wincanton in Somerset are holding up surprisingly well considering the boiling hard sun.  So here are a few of the tricks we employ to keep our garden flowering.
In the winter mulch your garden beds with a good couple of inches of compost - this will not only feed the soil and your plants, but also help prevent water evaporating from the old surface should the hot weather come.
We have lots of seeds germinating (our last annual crop for the small tunnel) and seedlings fattening up for when we have room to plant them out (biennials like foxgloves and sweet rocket.)  If I left these in the green house or even just outside in the cold frame they risk being burned to death by the strong sun.  So I shade them with a little green mesh (easily available by the metre from any good garden centre,) and they do MUCH better than being left in the sun.
When these seedlings need watering, I don't water from above.  Instead I put trays of seeds and seedlings in trays full of water, so that the compost can soak up water like a sponge, as much as it needs.  I leave the trays of seedlings in the water for half an hour or so, and then pour away any spare.
If you planted trees or shrubs in the winter, a bucket of water once a week direct to the roots will make all the difference.
If you're watering plants in the ground it's MUCH better to water once a week for a long time so that the plants keep getting their roots down towards water, than give them a daily sprinkle which will only encourage roots to turn up towards the dry surface of the earth and so put the plant at risk in a period of drought.
And if you're watering plants in the ground, or seedlings, it's much better if you can water in the morning to avoid wet rot at night.
For more brilliant tips on saving your garden in a drought, see Mark Diacono's piece in last weekend's Saturday Telegraph (21st July 2018) with quotes from the likes of Alys Fowler, James Alexander-Sinclair, Derry Watkins, Sue Beesley and more including little old me - all great ideas for saving your garden in a drought.