Workshops at Common Farm Flowers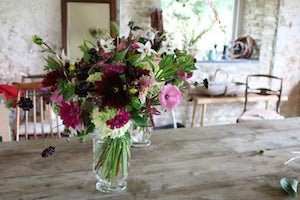 You can tell we're half way through the summer holidays because suddenly people are beginning to book in on our autumn workshop series. 
Which cheers us up no end, because it's always fun to welcome people to Common Farm and teach them about what we do here.  From sowing next year's cut flower patch, to making bouquets and posies at our garden floristry workshop, to flower farming for people looking to change their career, to growing your own or arranging your own wedding flowers (or both!) we have all sorts of cheerful days to give you something to look forward to during the autumn.  
Our flower farm is conveniently placed between Bruton and Wincanton, just off the A303 at the Tinker's Hill Interchange, and only about six miles from nearby Castle Cary and Gillingham in Dorset train stations.  
And our workshop days begin at 10am with tea and coffee and delicious cakes.  I hate the idea of people going home feeling as though they were abandoned and ignored at the back of a big class.  I really prefer to teach a small group so that I can make sure that people get all they want to out of the day.  So we never have more than fifteen people on our workshop days, but usually our groups are of about ten people.
We always have a delicious lunch, with quiches from At the Chapel, salads from Charles Dowding's no dig garden down the road, a cheeky glass of wine, because this is a day out after all, local cheeses, and more cake.
There are lovely places to stay nearby, from At the Chapel and the Oak House in Bruton for the people who fancy spoiling themselves, there's Number 21 in Bruton High Street for groups to stay at, and then for a more straightforward night in a trad country pub we have the Hunters' Lodge, an old coaching inn, down the lane between Wincanton and Charlton Musgrove.  
And this corner of Somerset is a hive of activity if you fancy making a trip of your visit to us.  There are always interesting exhibitions at Hauser and Wirth Somerset, where the Roth Bar and Grill is delicious to eat, and of course the stunning Piet Oudolf garden reaches out from the back of the gallery into the Somerset Hills with the Radic Pavillion, like a great bit enormous egg, laid at the top of the garden, leading you up the path.  For a more traditional garden to visit there's amazing Stourhead just up the road with the Spread Eagle pub on the edge of the gardens there for something to eat.  Bruton is always worth a visit with stylish shops and restaurants, Castle Cary has a fine indie bookshop as well as the Somerset Wine Co and lots of other great indie shops.  Not far away we have the historic market town of Sherborne with its castle, abbey and ancient high street, and then there's the Fleet Air Arm Museum at Yeovilton, more fine garden action at Montacute, and on down the A303 there's Lyte's Cary, Marjorie Fish's garden at East Lambrook Manor, from where you might pootle on to see the ancient monastery buildings at Muchelney and John Leach's nearby pottery... I could go on and on!
So do book a workshop here at Common Farm Flowers in Somerset, and do come and stay nearby and eat in our lovely local eateries, visit our lovely local gardens and galleries, and generally make the most of your trip.  We look forward to seeing you soon.