Why choose fresh confetti?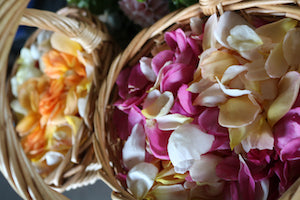 Lots of good reasons.  Here's a little list.
Fresh petal confetti is totally biodegradable and will soon disappear from grounds/church paths/any outside areas where it's thrown.
Fresh petal confetti has weight to it, or at least more weight than dried.  This means that when it's thrown it actually falls in the general area where it's thrown, rather than being blown away out of the photograph.
The weight of it means that if you give little pages and bridesmaids baskets of fresh confetti then it'll stay in the basket until it's time to throw it.
It's a brilliant way to make more of your table centres etc.  A circle of fresh confetti, or a sprinkling of it down a trestle table is very pretty and only takes a minute to arrange.
You can ask your florist to provide fresh petal confetti by all means.  But if you have a garden, and time, then this is where the fresh confetti idea really comes into its own.  A wedding day is a blurr of activity and rushing about and answering questions and being ready on time and and and, there's often little time to just take a minute to stand outside and smell the roses, so to speak.  If you have a garden, and the wedding is in the summer, then in the early morning, before the rushing about begins, then take that basket, maybe lined with a little tissue, and walk around your garden, shaking the petals of blown roses into your basket.  The scent of the flowers is very calming, and that cool, quiet moment, will set up up perfectly for the rest of the day.
Flowers which make good confetti:
Roses
Dahlias
Cornflowers
Larkspur
Marigold
Peonies
Tulips
You don't have to be celebrating a wedding to use fresh petal confetti.  If you have people coming for dinner or lunch, or drinks, then fresh petals scattered on tables, trays and other surfaces are very pretty.  Equally, if you don't spray your garden with chemicals then some of the above list can be dropped as garnish into salads, on cakes and into drinks.  But do be careful!  Larkspur, for example, is poisonous!