Wedding suppliers you'll need.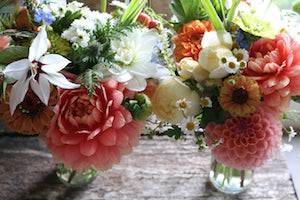 You may have been planning your wedding since you were five years old, or you may be totally surprised to find you're getting married at all.  Either way, there are masses of people out there whose business it is to help you create your perfect day.  Your job is to define what you'd like on the day, be careful to choose a budget you can afford.  And find the people who can best translate your dreams for you according to that budget.
Of course, you may decide to do the whole thing DIY - friends bringing lasagnes and salads, holding the reception at home, dress from a vintage shop, and a play list booming out of a laptop somewhere.
But if you're not going to do that you're going to need a:
Venue.
You'll need a venue both for ceremony and reception. They might be the same place in the end, but both incurr costs which you need to include in your budget.  In this part of south east Somerset we have lots of great venues nearby: from North Cadbury Court and East Pennard House, both of which have churches associated with the houses, through Sparkford Hall, to the Longhouse at Mill on the Brue and Gants Mill in Bruton, to a wonderful field venue at Hayhouse Farm where they supply an empty field with water and electricity and an incredible view and you do the rest, and the Roth Bar at Hauser and Wirth Somerset which makes a very cool place to have a wedding.
Event planner
The reception venue may come with an event manager who will help run your day.  It's really worth having a person like this, especially if you're inviting lots of guests.  If you're giving a big party at home in a marquee in the garden or field then do think about employing somebody to run the day for you.  Usually this would be a wedding or event planner you hire yourself.  Do ask your caterers, marquee people, or florists if there's anyone they'd recommend.  In this corner of South East Somerset I'd recommend Sara Kirkby of Sara Kirkby Event Style, or Helen Vernon of Punch Events, both very experienced event planners, with a wealth of contacts to bring your ideas alive.
Marquee hire
Even if you hire a venue with a house, like Sparkford Hall, you may find you'd like to put a marquee up on the lawn.  Marquees are remarkably versatile, and good marquee companies come with a full gamut of chill out tents, outside catering, bars, trestle tables, round tables, benches, wobbly little gilt chairs...  You may find that the venue you like can only accomadate so many guests inside and so if your invitation list is large you have to put a marquee up on the lawn.  In this corner of Somerset I'd recommend Abbas Marquees for their fantastic props and furniture as well as their wide variety of marquee styles for you to hire, and Apex Marquees because they have the most beautiful hand-printed Indian linings for their tents.
Caterer
You need someone who is a) a good cook, but who b) is used to catering events the size you plan, and c) can put up a kitchen wherever you want one.  Not all venues come with kitchens, so the caterer might need to install one in a tent for your event.  Don't be surprised when your very inexpensive venue turns out to be a place where the caterer costs a fortune because they're having to build a kitchen especially for you.  In this corner of South East Somerset we'd recommend Victoria Blashford-Snell, Taste Bruton, and Caroline Ghent, all extremely experienced, great cooks and just the kinds of colleagues this Somerset wedding florist likes to work with.
Florist
If you have no other flowers I would have a bouquet, even a tiny wee one, just because then you've got something to do with your hands as you walk down the aisle.  You can spend as much as the downpayment on a house on your wedding flowers, or just have a posy for you.  The more involved the wedding scheme you plan, the more experienced your wedding florist needs to be.  Think: do you want British flowers and a very fresh seasonal look, and expertise in avoiding using floral foam in your scheme, in which case you might like to call a florist like us at Common Farm Flowers between Bruton and Wincanton in Somerset, with eight years experience creating amazing wedding flowers schemes, from the smallest and most intimate day, to weddings with 250+ guests.  We take great care to work with our brides and grooms so that we don't go madly over their budget: we will happily supply buckets of DIY flowers if the budget is tight and the couple are keen to have a DIY element to their wedding, and we are happy to supply the full Fragonard, if budgets allow.
I'd say that your venue, your marquee people, your caterer and your florist are your core team for the day. and if you have a wedding or event planner to coordinate that team, then you have a good basis for an incredible day.
Then you'll need a celebrant, and a photographer, a dress maker, a tailor, maybe a calligrapher, perhaps a balloon specialist, a cake baker (not always your caterer - round here Helen Chesterman in Bayford makes fantastic traditional wedding cakes, and The Bakemonger in From makes extraordinary confections too,) a person to run the bar, or a wine merchant, the wedding car (or pony and trap, or tractor, or tuk-tuk supplier,) bridesmaids' dresses, master of ceremonies, music (disco/band/string quartet/organist/playlist on a laptop,) confetti, somewhere to park, parking attendants, printers, designer for the invitation/order of service/menu... will you have wedding favours?  And what will they be? Car/hot air balloon/pony and trap to go away in (I had one cousin who went away in a hot air balloon... and another on a quad bike,) a going away outfit...
You do not by any means need all of the above list (though a celebrant is probably the most important of all if your wedding is to be consecrated in law!) But it's worth thinking about all of these things at the beginning of the planning process, because the more you think early on, the more your budget can be created realistically and more or less stuck to. 
What can you think of that I've missed out?