Learn to be a Flower Farmer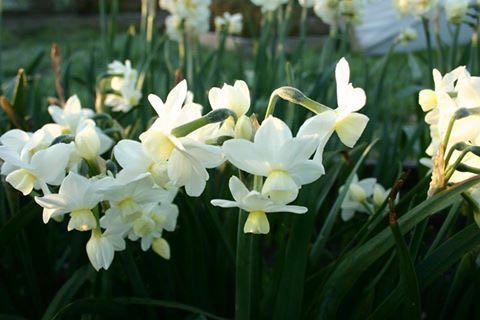 I always tell people that in order to be a flower farmer you need good reserves of energy, a mind like a spreadsheet, and a determination to learn from your experience.
It helps if you're already a keen gardener, but you do not have to be up to the hilt in RHS qualifications. It helps if you know a bit about running a small business, but that too can be learned. What you really need is energy, and a mind like a spreadsheet. And to those tools you can add a little marketing and maths and you're away. You don't even need vast areas of land, or much in the way of complicated infrastructure. Obviously, if you have a desire to grow nine million gladioli in a year then yes, a few acres might help. But for the kind of flower farmers we are, you can scale down your operation to an area as small as a good sized allotment. So you don't need masses of land. You just need energy, and a mind that works like a spreadsheet.
We had a student here yesterday who has done other workshops teaching flower farming and she said ours is incomparably better because:
We share all our knowledge, good news and bad. We don't try to make flower farming for a living look like a living the dream spread in Country Living, and we're honest about the amount of hours we work, and what we do in those hours.
We show people how we farm flowers on our plot between Bruton and Wincanton in Somerset and explain that not everybody would choose to farm the same way. We make clear that you can choose many different ways to flower farm, and many different kinds of living you can make out of it. Whether you want to supply wholesale quantities of high-value stems, or be a studio florist growing a great deal of their own stock, we look at all the options for the would-be flower farmer.
We send people home with their business plan bubbling into focus in their heads, an understanding of why a cash flow forecast is key, and how to make one, and a strong idea of many different ways that they can create a flower farm to suit their needs and lifestyle. You can dream of being a flower farmer on a micro-scale, growing to sell flowers maybe just from a stall at the farm gate, or you may have bigger ideas involving wedding flowers, or farmers' markets, or sending your crop to the wholesale market.
Like making a garden, we show you how to take your flower farming dreams, seed the compost of your mind effectively with them, so that when they germinate they can grow tall and strong, unencumbered with uncertainty.
The idea of taking up flower farming for a living certainly comes with a bit of living-the-dream imagery. We take those images and deconstruct them, debunk a bit of assumption, and then put reality back where the dream was, with focus, determination, and an understanding of the groundwork necessary to create a success of your business long term.
Flower farming for a living is only a little bit about growing flowers: on our day long workshops we show you ALL the tools you'll need to become a flower farmer, from how to make a cashflow forecast, to how to plan your successional sowing, to creating an efficient layout of your land, to planning what you'll do with your crop when it's ready for harvest.
Yesterday we had people with small allotments and people with large fields, we had people who wanted to focus on floristry, but grow a lot of their own stock, and people who wanted to grow just a few varieties to sell wholesale to those studio florists. There were ten of us altogether, and in that small group I directed their brainstorming so that I know that all of them went home feeling inspired, enabled, their expectations managed a little, and their dreams much more focused.
I know that many of them have already been on social media to tell a little more to their communities about how they plan to become flower growers and sellers in the next season, and I'm sure that many of them, before they went on facebook or instagram, started putting together their cash flow forecast, which will inform them how many flowers they need to sell in order to pay for their lives, and therefore how many flowers they need to grow, and therefore how much space they need, and how much time, and help and therefore the price they need to sell their flowers at.
Flower farming for a living is not rocket science: you need common sense, energy, and a mind like a spread sheet. For more information, inspiration, and an amazing day teaching you about running a small business from your garden, book yourself on one of the three flower farming workshops we have coming up over the winter: 30th October, 6th November and 15th January 2019. We don't run flower farming workshops in the summer because we don't have time. And nor, by the time you've been on one of our inspiring days, will you.