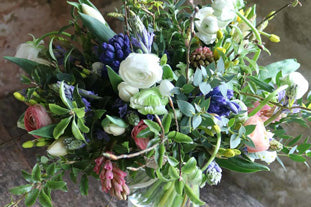 Hello friends.  Goodness hasn't it just been wet?  And windy!  We lost a gate post, but nothing more serious.  But the spring flowers are hanging on in there.  They are a hardy lot!
Now, before we go any further, please could you order your Mothering Sunday flowers now, and then it's done and I can order up masses of the best quality flowers known to anyone from our gorgeous colleagues in Cornwall, who keep us supplied right until the end of March when the gardens at Common Farm begin to come into flower.
Mothering Sunday is, in fact, the Feast of Mother Church, and falls three weeks before Easter, half way through Lent.  This means that everyone can have a day off their Lenten fast (oh I know all about your giving up wine and chocolate for Lent – by the time you get this will I still be off the butter? Mothering Sunday is a feast day, so wine and chocolates (and butter,) for all!) 

In times gone by Mothering Sunday would be the Sunday that indoor staff at great houses would be allowed to go home to visit their families, as they wouldn't be able to take time off over Easter, when the great houses would be full of guests, and the indoor staff required for black leading, and fire lighting, and putting on my lady's stockings and all that malarkey.  In those far off days on Mothering Sunday, the indoor staff, liberated after church, would walk the lanes home to have lunch with their families, and they'd pick posies from the hedgerow to give their mothers a little bunch of flowers.  This tradition has become one of the three biggest days in the florist's year, along with Christmas and Valentine's day.  And while I'm certainly joining in the commercial side of it, by offering to sell you flowers to make your mother smile on Mothering Sunday, I will admit that it's a tradition I do love. 

As a child we used to make posies for church and hand them out to all the ladies in the congregation, and since leaving home I have always sent my mama Mothering Sunday flowers.  We have a gorgeous mix of scented, seasonal flowers to send.  I'm more or less nose blind because I spend so much time surrounded by our lovely flowers, but I love the faces of people when they step into our flower studio and are hugged by a whole garden of scent.
For those of you, who love their gardens but find themselves time poor there's a lovely new book coming out by Laetitia Maklouf called The Five Minute Gardener.  It's a genius lay out of quick gardening solutions, brilliant how to's, and the occasional instruction you simply can't ignore, all laid out month by month.  I've sent a copy to my friend Katie James, an artist who loves her garden, and will love even more to be given a quick to do list each month so that she can just get on without having to decide or research how to do what next. 
For cut flower seeds, as usual, I recommend our friend and colleague Ben Ranyard of Higgledy Garden. See below for a lovely Spring 'Feed The Bees' offer we are currently running alongside Ben! 

For compost look no further than Sylvagrow by Melcourt for seeds, and Dalefoot for brilliant mulches.
And to learn to grow flowers then come on our cut flower patch workshop on 17th March.  The same workshop on 11th March is sold out, but we still have spaces on 17th– I'll send you home with trays of sown seeds and enough enthusiasm and know how to carry you right through till the end of the season.
April is mostly school holidays, but then we throw ourselves back into workshops in May with lots of floristry, one day, eco, wedding flowers intensives… Book a place through our website and then have a look at the links page where there is a list of truly gorgeous places where you can stay.
So best wishes friends for a March full of objectives achieved, seeds sown, Mothering Sunday celebrated, and hopefully, in my case, a butter free zone (Lent!)
Georgie x