Choosing flowers for a pink and white wedding flowers scheme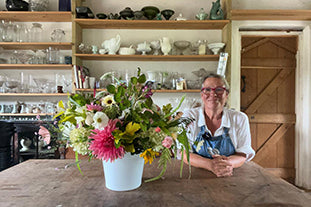 Georgie has been cutting masses of flowers for a beautiful wedding at @PowderhamCastle - join her as she cuts sixteen buckets of flowers this gorgeous summer wedding.
Georgie has strong opinions about choosing colours, and this pink and white scheme has an added highlight which is often specifically banished by people considering wedding schemes. See how and why Georgie loves a spot of yellow to lift a pink and white scheme and which flowers and foliage she chooses to work with her.
This clip finishes up with Georgie creating one of her enormous signature bouquets this is a clip about colour, sunshine, summer weddings, creativity, balance, floristry and more. Enjoy!