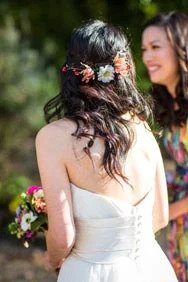 Here at Common Farm Flowers we often send buckets of mixed flowers to brides who like to arrange their own bouquets and posies. And sometimes they send us wonderful photographs to show us what they made with the selection we sent them. Here's one of our October brides, with a posy, buttonhole, and little delicate half-flower garland for her hair which she made for herself.
We always work closely with our brides who might have quite detailed ideas of colour and texture for their flowers. This bride wanted warm, autumn colours, and I think she's made some really lovely arrangements with the flowers we sent her. 
For more on our wedding flowers packages, from bouquets by post, to DIY buckets of flowers, to what we call the Full Fragonard design and installation process please email georgie@commonfarmflowers.com, or call us on 01963 32883 and we'll be happy to help. 
And if you'd like to learn more about growing your own wedding flowers or arranging your own wedding flowers, do come on one of our workshops. Alternatively, to inspire, encourage and give really good step-by-step instructions, see my new book, Grow Your Own Wedding Flowers, signed copies of which are available here.